Holidays, Birthdays, special occasions and moments of "just because" are opportunities to give a gift to someone you care about. There's something very personal and meaningful about a gift that you took the time to make yourself.
Serene and Expressive Handmade Cards:
Card making is the art of hand-making greeting cards. There are a lot of people who possess interests in allied crafts like making scrapbook and stamp. They initiated to use their skills and started making Beautiful handmade Cards. This has contributed to card making becoming a popular hobby.
Traditional high street stores have begun to devote an increasing amount of their floor space to handmade cards handmade products are now being seen by retailers as a way to increase profits, and handmade cards are no exception. This is particularly the case as mass-produced printed greeting cards have been faced with competition from electronic greeting cards. Over seven billion greeting cards were sent in the US alone last year; greeting cards are a multibillion-dollar business.
In contrast, hundreds of small businesses have been set up by avid crafters keen to make a return on their card making efforts. Many of these are taking advantage of the low setup costs of web-based selling and the wide customer-base of auction sites like eBay. Many others continue to sell their creations at craft fairs, markets and fetes. While others make use of their card making talent to turn into profit. It may be used for wedding planning purpose or to design handmade invitations for different purpose. You may also start making handmade wedding invitations and favors.
There are many different variations of handmade cards including decoupage, more commonly known as 3D, where a design is printed a number of times, and then various areas of the design are cut and layered on top of each other using double-sided sticky foam squares to mount the layers together to create the 3D effect making a very attractive greeting card.
Different Ideas for Handmade Gifts:
Handmade gifts are also in trend nowadays. It gives the feeling of real joy and happiness. There are lots of variety and trends to give handmade gifts to someone. There's something extra special about homemade gifts. I love them! Who wouldn't love to receive homemade gifts? They really are the best kind of gifts to give/receive. It will be ready in cheaper cost and also looks good and very attractive. It is the thing which can easily describe one's deepest feeling to someone and make them to feel special and happy.
There are different ideas of handmade gifts likewise one can give someone a well decorated cookie jar filled with homemade cookies, Self-design jewelry, outfits, photo keepsake, ring holder, jewelry box holder, picture holder pendant, wooden photo frame, beaded pencil & Pen wraps, fabric clock, glass painting etc.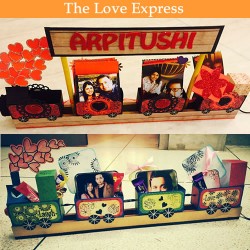 Any gift you make is one of a kind. No two creations will ever be the same as one another, and this gives each piece special meaning. Even if you use the same pattern twice, you'll never reproduce the afghan that you made for your mother. The one you give your sister will be different. If you make candles for gifts, the scents and colors will be unique; you'll never make them the same again.
All the gifts you make come out to be Unique Handmade Gifts. They possess their own individuality. Needle crafts (of all kinds) lend themselves most to individuality because of variations in fabrics, yarns or cording. On the other hand, these are also the most expensive crafts to give as gifts and generally take the most time to produce. If you're looking to surprise your loved ones by your handmade gifts, needle crafts is always a good choice.