Top stars of the most famous game have massive earnings thus their cars are expensive too
Football is one of the most popular games around the globe. It would not be wrong to say football is a global game. The football players are also among the massive earners across the globe, as they earn billions every year from their clubs. Similarly, it is not surprising at all if someone says that an Italian striker is among the richest players of football because everyone knows about the money every star earn and the net worth of every player as well. Now let's come to the luxury cars these football players have because the majority of these football players have luxury cars, even some of them have world's most expensive cars. We have compiled a list of most expensive cars and the footballers who own these cars. Let's start from number 10 where Italian striker Mario Balotelli owns a Ferrari f12 Berlinetta worth of not less than £240,000.
10 Most Expensive Cars in the World
Mario Balotelli – Ferrari F12 Berlinetta – £240,000
Italian centre-forward has dual nationality of Italy and Ghana and served Italy as a center-forward along with a right wing and left wing positions during his career. His current market value is 23 million euros and maximum worth remained at any time 30 million euros. He served Italy in 35 matches and scored 14 goals. He served around 20 clubs during his career. He played 352 matches while in these clubs and score 148 goals. He played 80 matches for Manchester city and score 33 goals.
The career of this Italian striker may have faced some bad years in the past and his career has taken a deep dip towards decline. This Italian striker has several expensive cars including his camouflaged Bentley which is one of the most expensive and luxury cars among the European luxury cars. This Italian striker comes at the top of our list of most expensive cars and their owner football players. He owns Ferrari f12 Berlinetta. This specific model of Ferrari is worth around £240,000. The all-new F12 Berlinetta is a landmark in itself and dismisses the Lamborghini equivalent. Although for more than six decades, Ferrari has been manufacturing front-engine V12 powered grand touring sports vehicles for the road, but the new F12 is following the footsteps of the 275 GTB of 1964, the biggest debut remained in the 60s. The all-new F12 Berlinetta has a powerful engine like the one was used in Titanic. Its performance makes the touring manners even docile with impressive usability. It is more striking and stylish than Aston Martin vanquishes and Lamborghini Aventador. It is more a supercar, not a GT by large. The F12 Berlinetta is a striking car which is dominated by its excellent performance.
Sergio Aguero – Lamborghini Aventador – £262,000
If a flop like Mario Balotelli and he owns one of the world's most expensive car, the same can't be said about his once teammate Sergio Aguero, yes! The Argentinian striker is one of the best players in the premier league and also played for Manchester City. He owns several expensive cars but the most expensive one is Lamborghini Aventador he owns. The Aventador is worth more than £260,000 in the UK and he paid 2 thousand extra for his car. But keep in mind that this vehicle no more than of his a week's earnings. Such an expensive player he is.
His Lamborghini Aventador is such a great supercar and appeals the ones with such deep pockets. It was pitched by Lamborghini for the rivals like Ferrari F12 and it is undoubtedly lightweight, quicker and stronger. It is stiffer than all its predecessors. It is truly a lovable luxury and unquestionably powerful vehicle and styling surrounds the rest. With 690 hp from its powerful car engine, the Aventador takes only 50 milliseconds to shift between gears and under 7 seconds to cross 100 miles per hour mark from its finest Italian v12 engine.
Francesco Totti – Ferrari 599 GTO – £342,000
Serving as a manager at AS Roma club and has a contract till 2021. He currently holds an Italian nationality and was the part of FIFA World Cup when Italy won the title. He served Italian team as an attacking striker and played from different positions. He played as center-forward, secondary striker and attacking midfield player. During his career, his net worth remained 40 million euros and he got retirement as a player last year. He debuted for Italy in 1998 and played 59 matches for Italy and scored 9 goals. Being an international player, he played more than 750 matches and scored more than 307 goals while assisting his fellow players in more than 128 goal moves.
An absolute legend from Rome deserves at least this beautiful car. Francesco Totti still earns massive money from his several endorsement deals and other sources. He still has huge wages and he paid £342,000 to buy a luxurious Ferrari 599 GTO. You must not be surprised to hear that this car's price is just a fraction of his annual earnings. Ferrari dominated into the street power with the help of 599 gto. This new model is 3.35 seconds quicker than the Ferrari Enzo and 3.1 seconds quicker than the GTB which was tested in 2008. The 599 GTO is powered by a V12 Ferrari engine, with largely improved intake and exhaust flow. All these features and new settings make the GTO 12 percent more efficient than its GTB fellow. All examples of this beautiful model are already spoken for or even sold out and you can't buy one now. So, yeah, it is a pretty much favoritism shown by Ferrari.
David Beckham – Rolls Royce Phantom – £350,000
The king of the midfield positions and having a net worth of more than 40 million euros, this legendary player has served his country well. He participated in more than 115 international matches as a leading England player and score more than 17 goals. He left the game at the age of 40 and become an agent of CAA sports. During his career, he played for more than 22 clubs but his main club always remained Manchester United. He played more than 700 matches including club world cup and leagues and scored more than 130 goals himself and assist his player fellows to score a goal more than 128 times and succeeded. He made his debut as an English player in 1996.
The English legend, once the sign of dignity and pride of English football team, David Beckham is technically not a footballer anymore but he is still a super-rich footballer and his collection of cars is just awesome. He owns many expensive cars, but the most expensive car he owns is Rolls Royce Phantom. The former Manchester United and Real Madrid star paid £350,000 for his convertible Rolls Royce Phantom. As per his net worth, this car is just like a second hand Astra from him, he can buy a lot more expensive cars than this.
As Rolls Royce is a symbol status itself, the phantom has its slogan 'made it your image, not for your image' which clearly means it is a symbol of status. It is a holy grail of handcrafted interior and many parts of the exterior as well. Powered by a 560 hp engine. A twin turbo unit coupled with an eight-speed transmission. A massive list of technology includes night vision system and a distinct laser light system as well to keep you in control in the dark as well. It is exclusively quiet, affluently crafted by hand, and an impressive presence on the road, the phantom is actually made for the people like David Beckham.
El Hadji Diouf – Mercedes-Benz SLR McLaren – £420,000
El Hadji Diouf is not a famous footballer indeed and he remained one of the least popular players in his career history. He is a Senegal national and remained inactive to some extent since 2013. His current club is also unknown. He mostly played from Clubs and least from his national team. In February 2010, his net market worth was only 200k euros and in 2007 when he was famous and was a well-known name in the circles of football, his net worth was around 450k euros. He served his team as an attacking midfield player and played total 50 matches from different clubs and leagues and scored only 3 goals. He played for more than 22 clubs in his career and his current club is unknown.
But he still earned a lot of money in his career and he bought one of the most expensive cars for him. This is a Mercedes-Benz SLR McLaren worth of 0.4 million pounds and he paid £420,000 for this premium luxury vehicle. It is exactly true that if a company wishes to transfer its legacy of auto Sport into a street legal vehicle, it must pass the 200 miles per hour dash in a way as Ferrari Enzo does in the past. Mercedes performance fellow AMG knows how to pack more horses in a compact package and they have done it. The SLR McLaren is powered by a v8 engine capable of producing more than 600 horsepower. This is a sheering force form a v8 unit.
Samuel Eto'o – Maybach 57 Xenatec Coupe – £600,000
Samual Eto'o has a net market worth of 1.0 million euros and he was only 35 years when he earned this market worth. He played for many clubs worldwide and played for his country Cameron as a Centre forward as his main position and left wing and secondary attacker in a couple of matches. He was known as the king of football moves and attacking skills. Currently, he is playing from Konyaspor club. In his career, his highest net worth remained 40.0 million at any time. During his career with his national team, while playing for his country t international platform, he served Cameron in around 98 international matches and scored 33 goals for his country.  He played for more than 30 clubs worldwide during his career. With his national team, he participated in many crucial matches and played a vital role in the win.
With the help of few excellent moves in his career, Samuel Eto'o made a lot of money and it was clear that his moves were just for money in the past and these career shifts from club to club played well for him though, these moves enable him to buy a most expensive Mercedes in the market. He bought Mercedes-Benz Maybach 57 xenatec coupe for only £600,000. The Maybach Xenatec were only 100 produced in its entire lifecycle and he bought one of those 100 units. The Maybach xenatec is a luxurious limousine and it is a mighty Daimler backed effort to keep the Maybach alive in the market. The xenatec company has given the Maybach 57 a great treatment to convert it into a coupe. It costs them more than £300k or even more to convert it.  This 2.7 tons heavy package is powered by a v12 Mercedes engine which is capable of generating more than 630hp and a torque of 750 lb-ft plus to move this package on the road. This engine is coupled to a five-speed automatic rear wheel drive system, an automatic transmission can control the engine power to sprint the vehicle on the road at a top speed of 172 miles per hour.
Zlatan Ibrahimovic – Porsche 918 Spyder – £616,800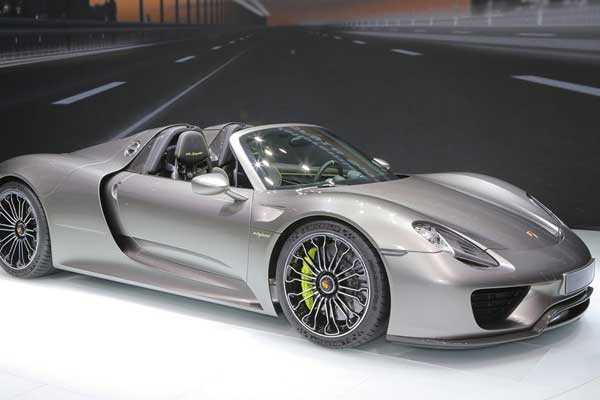 Zlatan Ibrahimovic is a Swedish player and has a net market worth of 4.0 million euros. He is 36 years old and playing for Los Angeles Galaxy club. He also has Bosnian nationality along with Swedish.  He plays as a Centre forward as the main position from his national team. In 2009 when his career was at its peak, his net worth was more than 40 million euros. He played 116 matches from Sweden and scored 62 goals. He served his country and his football team as a leading player. He played for more than 28 clubs worldwide and currently serving Los Angeles Galaxy.
Zlatan Ibrahimovic is a player who played for some of the world's most expensive clubs and earns a lot of money in his career. He played where players like David Beckham played. He played for Manchester United. He has a collection of some good cars and out of them, the most expensive is the Porsche 918 Spyder. This expensive car is worth around £616,800 in the UK. Porsche says that the spyder tells you a number of stories in just six minutes and 57 seconds. And for this story, it is just a beginning with a hybrid Porsche. With the turn of an ignition key, it reminds you the old sports car dream but upon putting it into the driving mode, it tells you the story of the futuristic mobility. A euro six compliance model is far better than McLaren P1. It is a real paragon of world's most advanced technology and really fun to drive at the same time. The naturally aspirated engine kicks into the spyder with hybrid technology. Porsche has a focus to move forward with a right and futuristic direction and clients like these football players are helping the automakers to make their dreams true.
Samuel Eto'o – Aston Martin One-77 – £1,250,000
As we explain this legend in his first place at number 5 in this list, Samual Eto'o came back yet another time on this list because he owns another expensive car. Now is the first player who breaks the million pound mark with his most expensive cars. Apart from his Maybach 57, owns an Aston Martin One-77. This vehicle is one of the most expensive cars in the list so far. He paid a whopping £1250, 000 for this vehicle. It is an unparalleled beauty in the sports car segment with subtle performance and aggression. It has a fussing advanced technology and a million pound v12 one 77 engines to make the ONE-77 a fastest ever Aston Martin in the market. It is a front mid-mounted engine, with alloy quad camshafts and a 48 valve package. This engine produces more than 750hp and almost the same amount of torque. It takes 3.7 seconds to beat the 100miles per hour mark. Reaches 202 miles per hour maximum. According to Aston Martin, the One-77 is the most desirable design in the market.
Ronaldinho- Bugatti Veyron – £1,550,000
Ronaldinho has a net market worth of 80.00 million euros in the age of 35 years only. He played for many clubs worldwide and played for his country Brazil as a midfield attacker as his main position and left wing and secondary attacker in a couple of matches. He was known as the king of football moves and attacking skills. Currently, he is a retired player. In his career, his highest net worth remained 100.00 million at any time. During his career with his national team, he played around 118 international matches for Brazil and scored 56 goals for his country. Out of his massive wins are include FIFA world cup as well. He served his country and his football team as a leading player. He played for more than 17 clubs worldwide during his career.
A legendary speed record breaker car looks great with this legend. Ronaldinho is known as the king of football and playing skills across the globe, he also was known as a money-making machine. He is the richest footballers of all times and his abilities, combined with his clean record, his career earned his fortune in the past and he spent a lot in his vehicles. He recently spent £1,550,000 on his Bugatti Veyron. This expensive vehicle for a legendary striker. It is an incredibly high tech solution to the striking aerodynamics and it handles the speed well even while cruising at above 400 kilometers per hour by a harmonious balance between down lift and speed. The interactive features of the Veyron allow you to enjoy even more by changing the driving modes. The heart of the Veyron is a W16 engine which cranks more than 1000hp and can leave the fuel tank from full to completely empty in just 11 minutes.
Cristiano Ronaldo – LA Ferrari 2014 – £2,000,000
Cristiano Ronaldo has a new market worth of 100.00 million euros at the age of 33 years only. He played for many clubs worldwide and played for his country Portugal as a centre-forward as his main position and left wing and right wing in a couple of matches. Currently, he is playing for Real Madrid club. In his career, his highest net worth remained 120.00 million at any time. During his career with his national team, he played around 154 international matches and scored 85 goals for his country. He served his country and his football team as a captain.
Cristiano Ronaldo loves to be in the first place and he also loves to be in first with his cars list! The Portuguese superstar is the first legend who bought an LA Ferrari and he paid a whopping £2m for the beautiful luxury supercar. You can simply imagine that why this luxury supercar is that expensive and stylish, it is an absolutely stunning vehicle. Some of the rumors say that the automaker gave Ronaldo LA Ferrari as a gift but other sources say that he paid for this vehicle. Apart from this supercar, Ronaldo owns 19 supercars and every car is one of the most expensive in its class. He also owns a Bugatti Veyron worth of £1,550,000 pounds. La Ferrari is the first ever road legal hybrid car by Ferrari and it is still powered by a v12 engine producing just under 800 hp and having a top speed of 217 miles per hour but overall collective package gives just under 1000 hp and it is hard to control it at full speed. It just acts like a raging monster on the road.